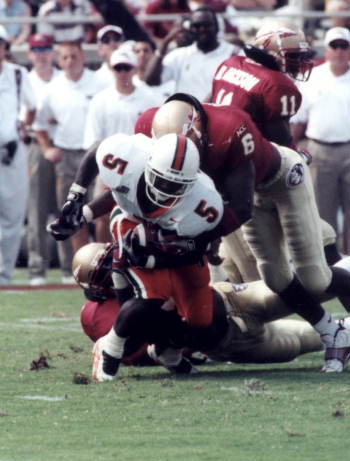 Image: Wikimedia Commons
The Florida State Seminoles are reeling and on the verge of snapping the longest active bowl streak in the nation. FSU has lost all 3 home games played this year in Doak Campbell Stadium. In each of the losses both offense and defense have taken turns struggling to play sound assignment football. Jimbo Fisher and his staff have come under fire for lackluster play, turnovers, red-zone scoring, wasting of timeouts, conservative play calling, under-performing offensive line play, and a defense who gives up big plays and game winning drives.
Charles Kelly defensive coordinator since 2014 appears to be on the hot seat. Florida State defense has decline under Kelly's watch and many fans have grown tired with the results each weekend. Offensive line coach Rick Trickett is someone else who fans are outwardly hoping is let go by season ends. Chants of fire any of the coaches are growing louder by the day in Tallahassee, a lost to Boston College on Friday would spell one of the biggest choke jobs in modern college football history.